The Standards in Energy and Utility Accounting!
The Utility Manager is a remarkably powerful, yet easy to use utility accounting software package for Windows XP, Vista, Win 7, Win 8/8.1, or Win 10.  The Energy Center is likewise powerful and user-friendly but is 100% web-based, accessible from any browser or mobile device.  BOTH products help you store information about each of your sites, utility vendors, utility accounts, & utility bills. Data entry is made easy since templates can be customized to precisely match the layout you see on your bills.
With hundreds of built-in reports, analysis tools, and import/export features, The Utility Manager and The Energy Center can help you:
have accurate and detailed utility information at your finger tips;
compare the relative efficiency of your various sites;
find billing errors;
forecast and budget utility costs; and
monitor the results of energy and water saving projects.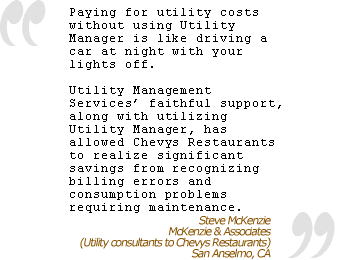 ---
Software Features
Contact us or order software
Call 707-778-9930 or 415-488-4652 or email us at info@utilityaccounting.com.
Utility Manager Pro ™ and Utility Manager Server ™ are both Registered Trademarks of Utility Management Services.  The Energy Center ™ is a Registered Trademark of New Energy Technology.