Who We Are
Since 1982, Utility Management Services has provided customers unmatched expertise in computerized utility bill tracking, energy efficiency program management and evaluation, and training in resource management. We have worked with hundreds of public agencies and private firms on both extensive "turnkey" projects as well as projects of more limited scope. UMS has the tools to make your utility management program a success, regardless of your project size and budget.
Why Choose Us
Our Experience: More than 36 years experience in the utility accounting area — we've built utility tracking databases for some of the nation's largest companies as well as small school districts - and everyone in between.
Our Expertise: For more than 18 years, UMS has provided nationwide Utility Manager technical support — we know the ins and outs of the program far better than anyone else! If you experience any problem, there's no one better to get help from.  We also played a key role in helping design The Energy Center.
Our Service: We work hard to provide quality support to our clients both before and after you purchase the software — just read our testimonials! They were written by our clients.
Our Integrity: We provide high quality work at a fair price, with no gimmicks. Your satisfaction is guaranteed.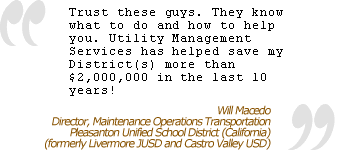 What We Do
We work with businesses, local governments, and school districts to help you:
track your use and costs through utility accounting software
process bills electronically
benchmark facility performance
audit bills for errors
analyze buildings for savings opportunities
manage the billing complexities of electric deregulation
more accurately budget for utility costs
minimize your use of natural resources
We provide training in:
getting the most out of your utility accounting software
using Electronic Data Interchange (EDI) for processing bills
Contact us or order software
Call 707-778-9930 or 415-488-4652 or email us at info@utilityaccounting.com.